We were flying Malaysian Airlines but I had read that the lounge they use is not the best, so we headed over to terminal 1 after clearing security to use the Qantas Lounge. Since we were flying business class on Malaysian and JAL, we could use any of the lounges operated by Oneworld airlines.
The lounge was very large and modern. It was arranged in two large seating areas and a dining area. The food selection was great as well. They had a salad bar, hot buffet, as well as food to order. We had some of food off the hot buffet and it was all great. They also came around with chicken satay on a trolley. It was probably the best lounge I have been to.
We left the lounge just before boarding time. They do security at the gate in Singapore and shortly after going through, they called business class boarding.
This was a very short, 30 minute flight from Singapore to Kuala Lumpur. The seats were in a 2×2 setup which is the same as you find on US domestic first class. The seats and legroom were also almost identical to US domestic first class. We were offered the choice of guava, orange, or apple juice for a pre-departure beverage. Malaysia airlines does not serve alcohol on flights less than 3 hours.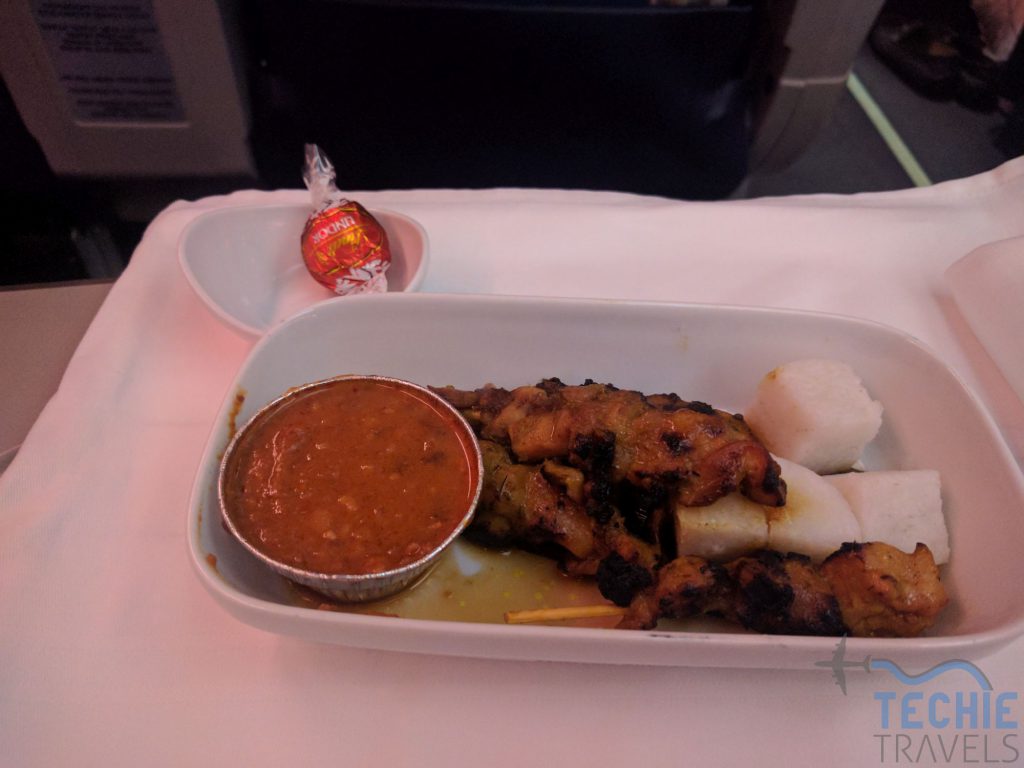 Despite the short flight time, Malaysia Airlines still manages to serve chicken satay. This is very impressive considering you are lucky to get water on flights less than an hour in the US. It was quite good all things considered.
Landing was smooth and we were in the Kuala Lumpur airport in no time. We spent our layover at the Malaysia Airlines Golden Lounge. After following very confusing signage that never pointed in the same direction to the lounge, we eventually found a map and and the lounge. For future reference, it is directly behind the skytrain terminal on the second level.
This lounge was definitely not as nice as the Qantas lounge. It had this odd, offputting smell that I could not put my finger on. The furniture was pretty well worn as well. The lounge could definitely stand a remodel.
The one redeeming quality of the lounge would have to be the food selection. They have a hot buffet as well as food cooked to order. I didn't order any food, but got some from the buffet and it was decent. Eventually, I found the bar back by the entrance and they only had Carlsberg beer which was odd to say the least. Why does a lounge in Malaysia have a Danish beer instead of something local?
Soon it was time for our next flight.