Introduction – Western Europe Trip
American Airlines Flagship Lounge O'Hare
British Airways B747 Club World – Chicago to London
Hilton London Bankside
London – Tower of London, Tower Bridge, and HMS Belfast
London – Changing of the Guard, Chelsea FC Tour, and the British Museum
London – Westminster Abbey, Churchill War Rooms, and the National Gallery
Day Trip to Cambridge – King's College, Punting, and Fitzwilliam Museum
London – Globe Theatre, St Paul's, and Kensington Gardens
Hotel Therese – Paris Boutique Hotel
Paris – Arrival and Louvre Museum
Paris – Day Trip to Versailles
Paris – Musee D'Orsay, Notre Dame, and More
Paris – Eiffel Tower and Arc de Triomph
Kimpton DeWitt Amsterdam
Amsterdam – Arrival and Heineken Experience
Amsterdam – Canal Tour and Van Gogh Museum
Amsterdam – Rijksmuseum and Anne Frank House
Elemis Spa and Cathay Pacific First Lounge Heathrow
British Airways B747 First – London to Phoenix
After our train to Amsterdam, we walked the short two blocks to the hotel. The hotel was recently converted from a Crowne Plaza to a Kimpton and completely renovated. The location of the hotel cannot be beat with hundreds of restaurants, snack shops, and other shopping just outside the door. There were two tram stops within walking distance as well.
I had booked the hotel using free nights from our Chase IHG Rewards Club credit cards. The last night was booked using Altitude Reserve points due a very reasonable rate for the last night. This meant we had 3 separate reservations which caused difficulties with our room key as it was deactivated every day.  A quick stop at reception cleared up the issue though.
At check in, we were informed that we had been upgraded to a King Deluxe room. The only difference between this and a standard room that I could see was a higher floor. Our room was available immediately and we went right up to the fourth floor. Our view was onto some balconies of an apartment building so we had to be careful with the blinds. However, we also had a small view of the Olde Kirche which was nice.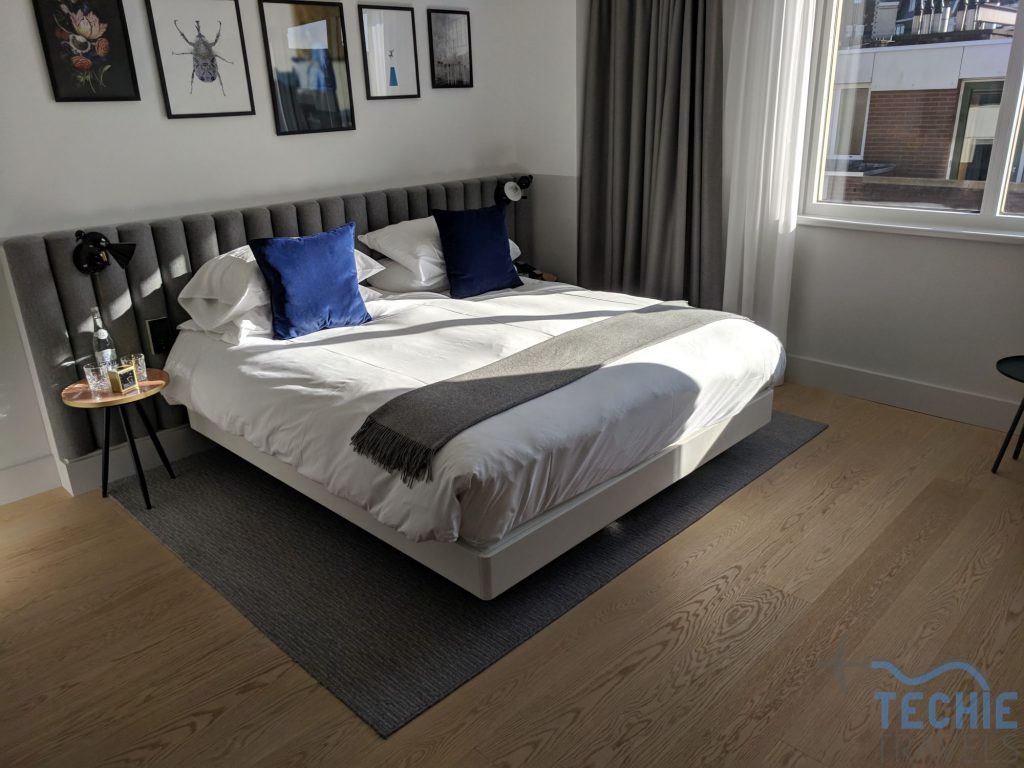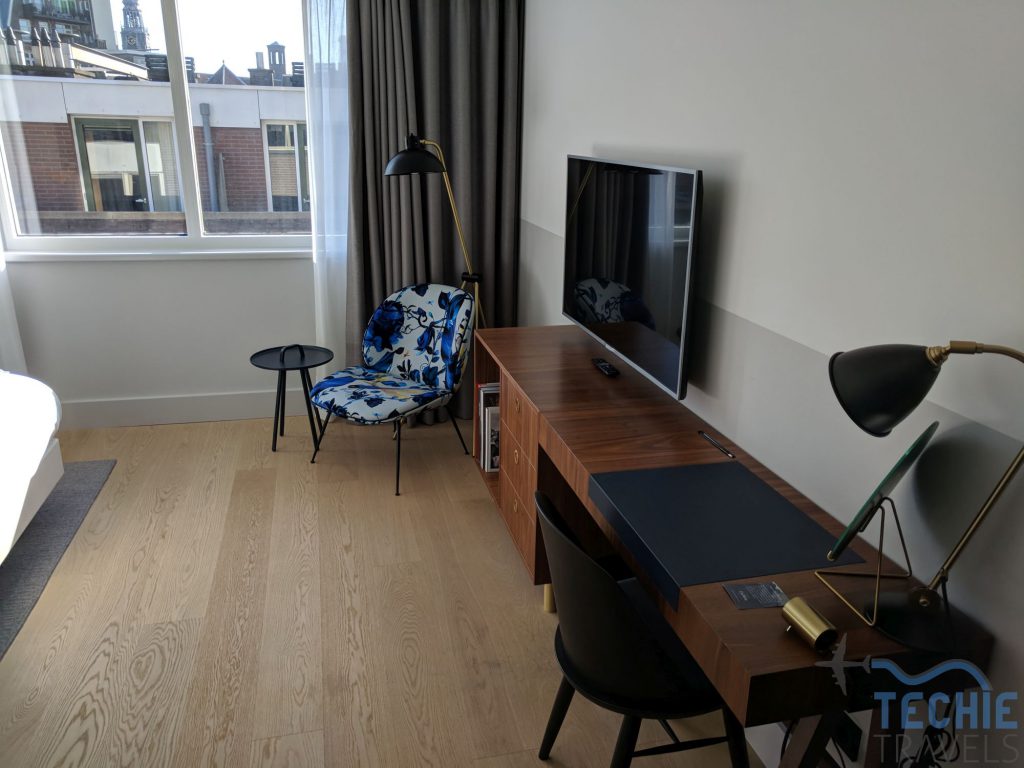 The room was similar in size to our large London room. Because of my status with IHG, we received a voucher for 15 euros from the minibar or bar downstairs. Sodas and beer were about 5 euros a piece so you could have about 3 items from the minibar. The bathroom had an interesting tile job. You did not have to worry about falling asleep in there. It was stocked with large pump bottles of shower gel, shampoo, conditioner, and lotion.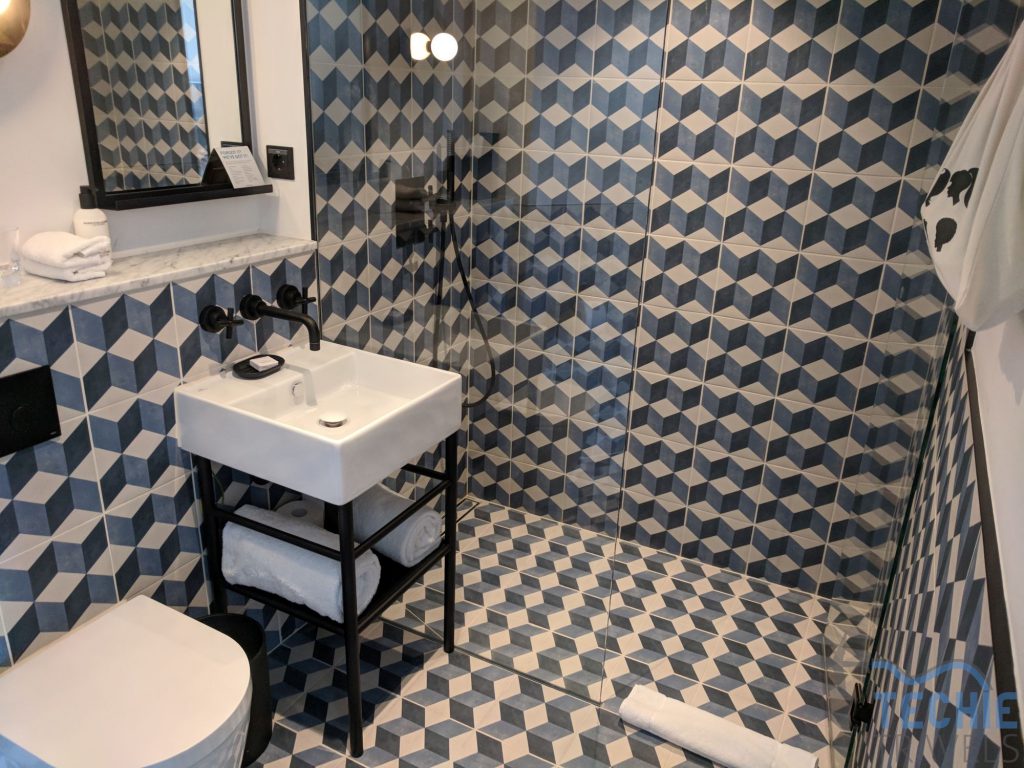 The hotel hosts wine hour from 5-6pm where the wine was free-flowing. They were not stingy at all and offered refills throughout and a final refill right before the hour was up. If you arrive after wine hour, it looked like they would give you vouchers for a glass of wine in the bar. It was a nice treat just before dinner.
We did not have breakfast or a meal in the restaurant so I cannot comment there. It did seem pretty pricey for breakfast at 21 Euros per person. The fitness room was in the basement but we did not use this facility either.