Introduction – Western Europe Trip
American Airlines Flagship Lounge O'Hare
British Airways B747 Club World – Chicago to London
Hilton London Bankside
London – Tower of London, Tower Bridge, and HMS Belfast
London – Changing of the Guard, Chelsea FC Tour, and the British Museum
London – Westminster Abbey, Churchill War Rooms, and the National Gallery
Day Trip to Cambridge – King's College, Punting, and Fitzwilliam Museum
London – Globe Theatre, St Paul's, and Kensington Gardens
Hotel Therese – Paris Boutique Hotel
Paris – Arrival and Louvre Museum
Paris – Day Trip to Versailles
Paris – Musee D'Orsay, Notre Dame, and More
Paris – Eiffel Tower and Arc de Triomph
Kimpton DeWitt Amsterdam
Amsterdam – Arrival and Heineken Experience
Amsterdam – Canal Tour and Van Gogh Museum
Amsterdam – Rijksmuseum and Anne Frank House
Elemis Spa and Cathay Pacific First Lounge Heathrow
British Airways B747 First – London to Phoenix
We took the train to the airport and arrived a little over 90 minutes before departure.  We had some issues at check-in for unspecified reasons with a lot of running between computers and frantically looking at watches.  Eventually the issue was resolved and we headed through security.  We stopped in the British Airways lounge in Amsterdam for about 15 minutes to grab a quick breakfast. Unless they change over the food selections really early, it did not seem like had different offerings for breakfast, lunch, or dinner. There was some pastries and yogurt as well as tomato soup, bread, and lunch meat. The lounge was fairly crowded and not much to write home about. Fine for a quick stop, but I would not arrive early to the airport for the lounge.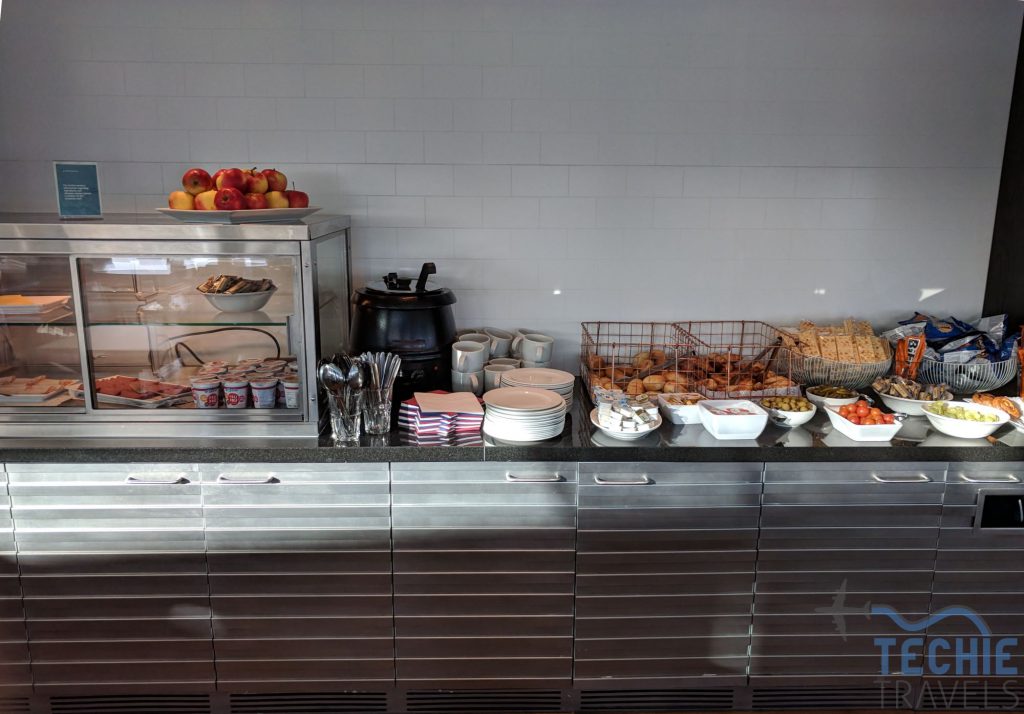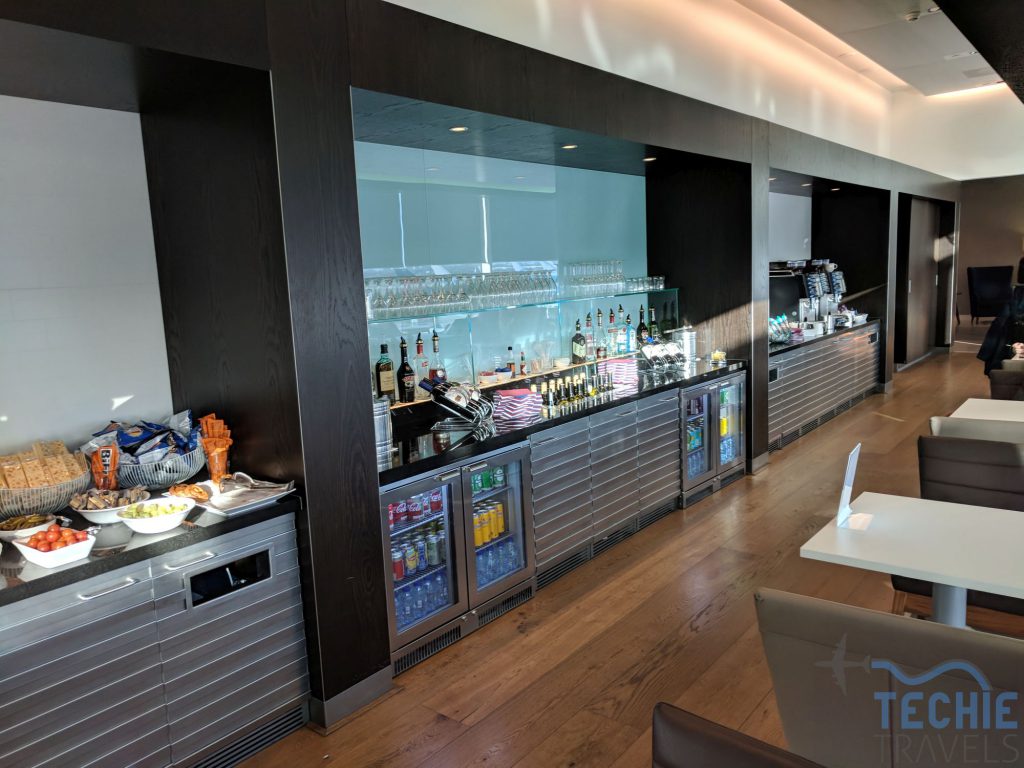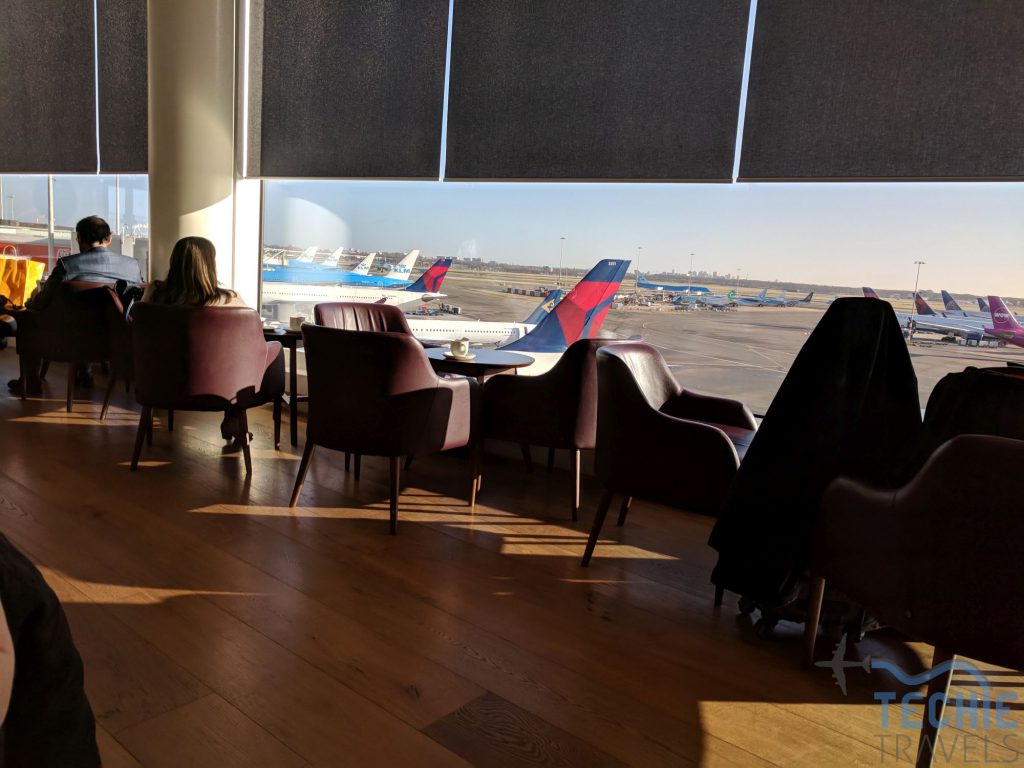 We boarded the quick flight to Heathrow where we were in Club Europe. It was standard European business class where the seats are the same as economy with a blocked center seat. We were still served a meal which is always impressive compared to US airlines where you are lucky to get water if the flight is less than 1 hour.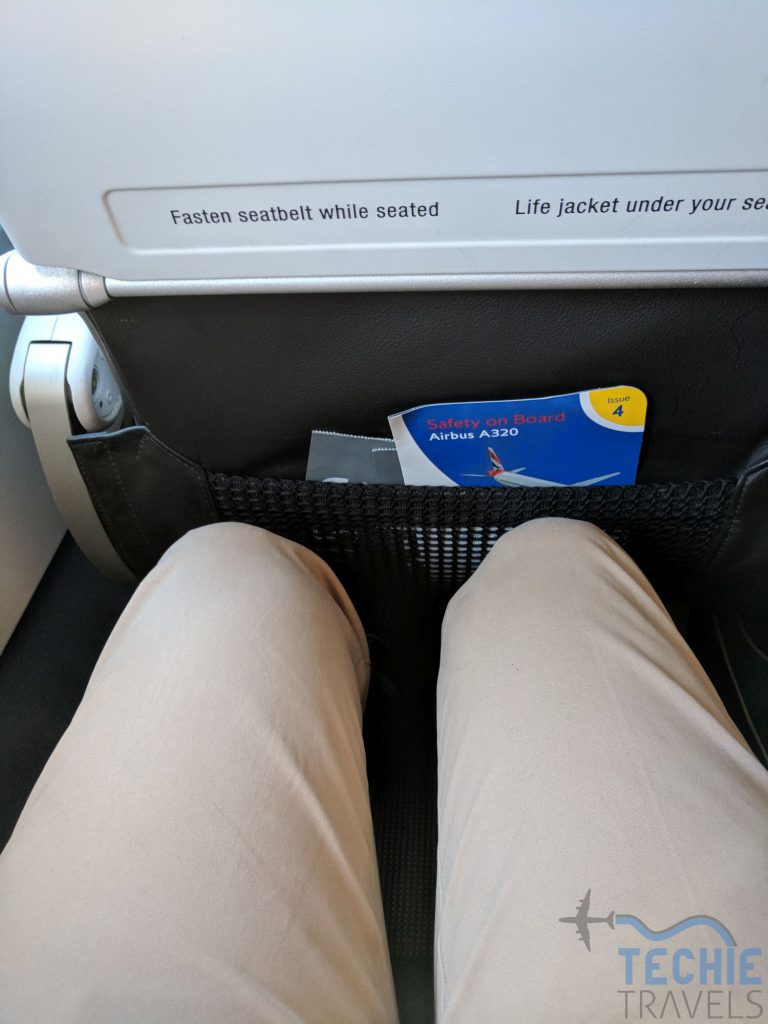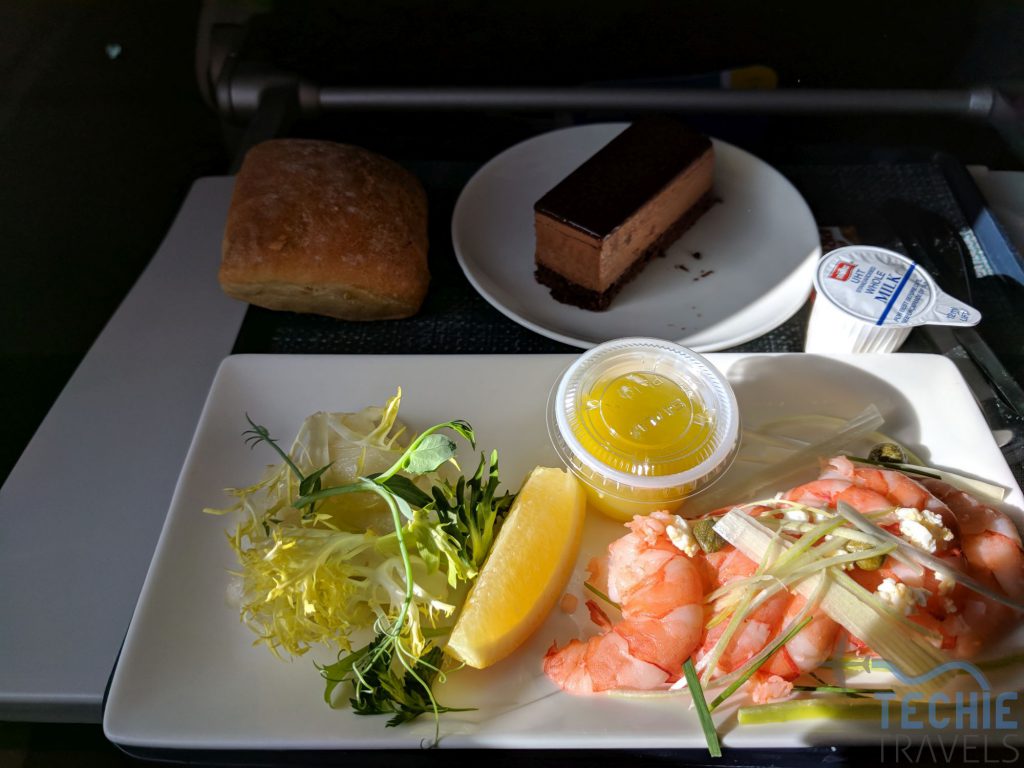 I prebooked appointments right at 28 days before using the form on the British Airways website. I was given an appointment of 12:00pm which was only 35 minutes after landing. We also had to transfer from T5 to T3 at Heathrow. The official documentation says to allow 90 minutes for the transfer so I did not have much hope to make my appointment. After hurrying off the plane and through the transfer, we made to the Elemis Spa right at 12. We had a little difficulty finding the spa as it was not on any of the signs, but it is located right next to the British Airways lounges so just follow the signage for those.
I had a back and shoulder massage and Samantha had a scalp and shoulder massage. It is only a 20 minute treatment with your shirt on so do not expect a full spa experience. It was also quite hot in the treatment room. I did appreciate the lack of upsell of products afterwards. The treatment was good, but nothing to write home about – worth taking advantage of if you can get an appointment though.
You have 3 lounge options if you are flying business or first out of T3 – the Cathay Pacific Lounge, the American Airlines Admirals Club, and the British Airways Galleries First lounge. We missed out on the Concorde Room which is the British Airways lounge reserved for First Class only in terminal 5. I was a little disappointed, but had read mixed reviews. We decided on the Cathay Pacific Lounge. After checking in, we were directed immediately to the right for the first class section. There was plenty of space here and not crowded at all, probably because there were not any Cathay Pacific flights leaving soon.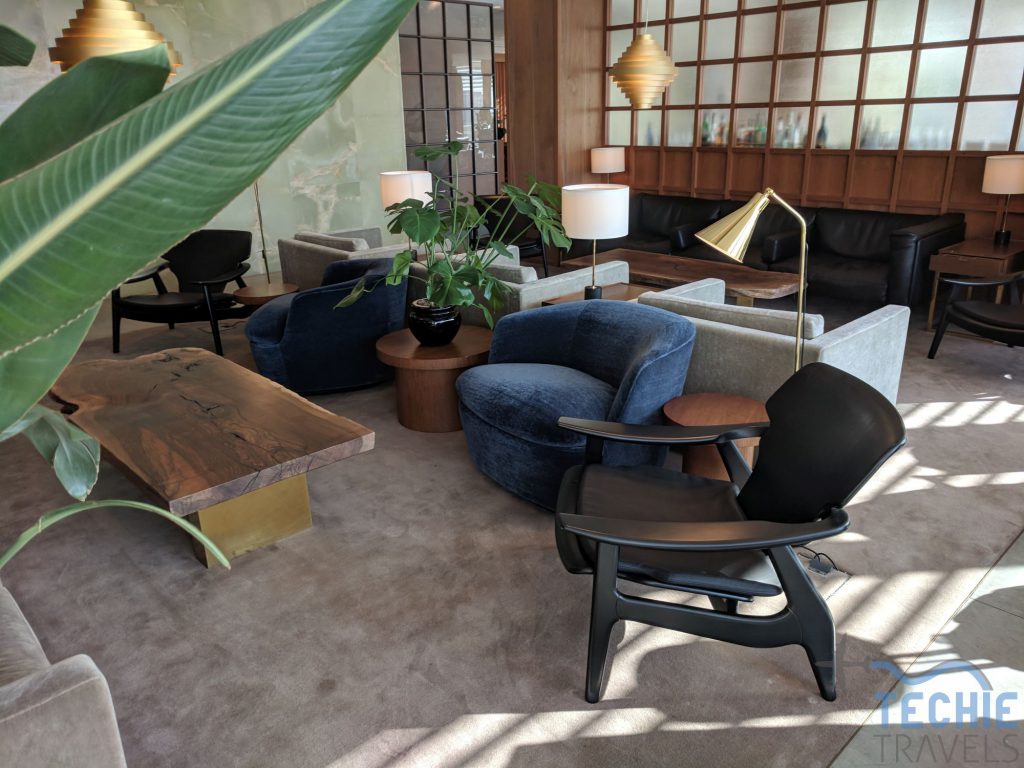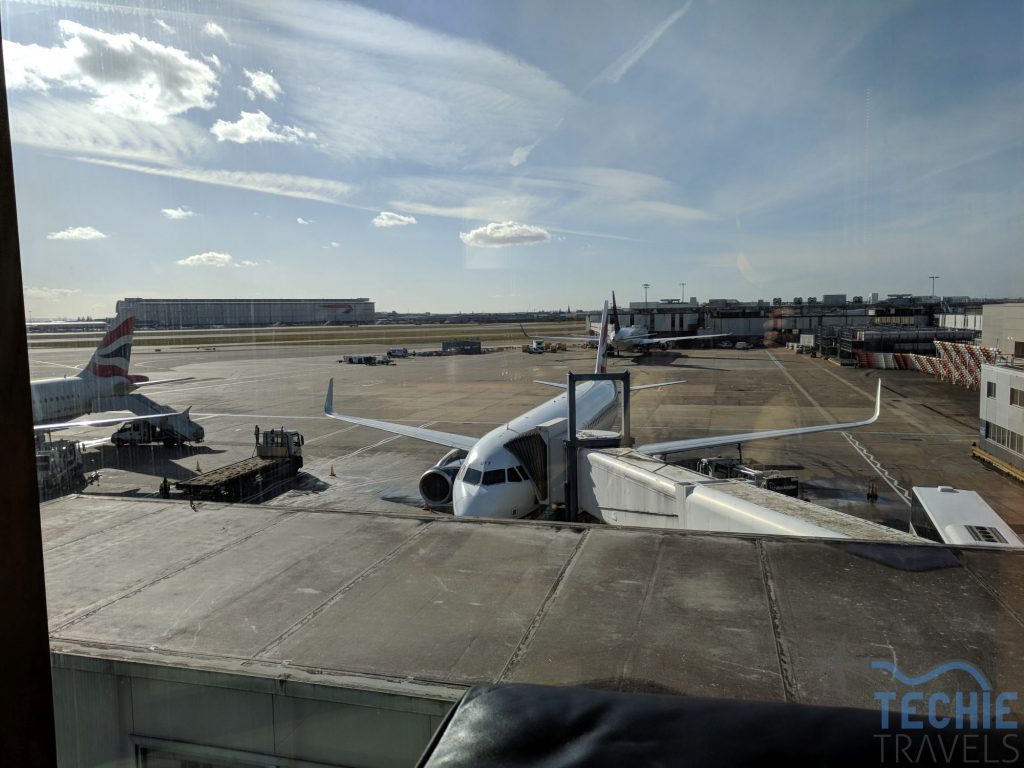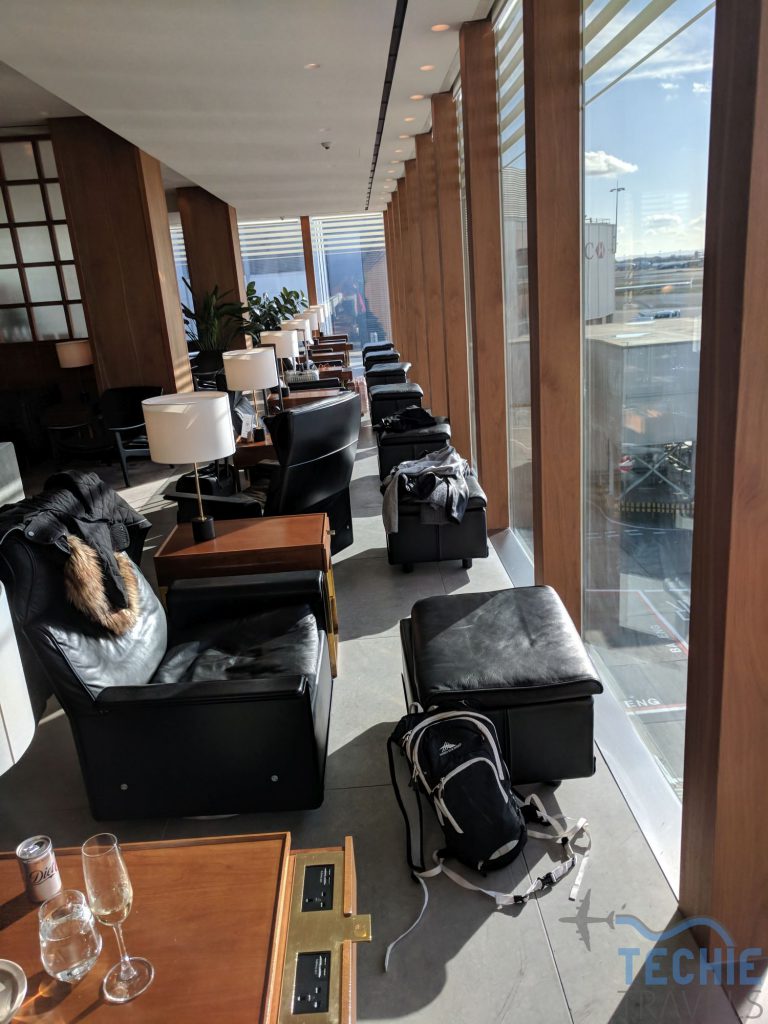 There was a snack and quick bites section with cold food and desserts available. There was also a bar setup with a good selection of non-alcoholic and alcoholic beverages all self-serve. You could visit the bar in the business section if you wanted a drink made for you though. After Samantha got back from her massage, we went into the dining area for lunch. I had the Dan Dan Mien and Samantha had the Gnocchi. We shared the sticky toffee pudding dessert. Both were very good, but we were trying to save our appetite for the flight. It took a little over 30 minutes for our meal so make sure to budget enough time before boarding.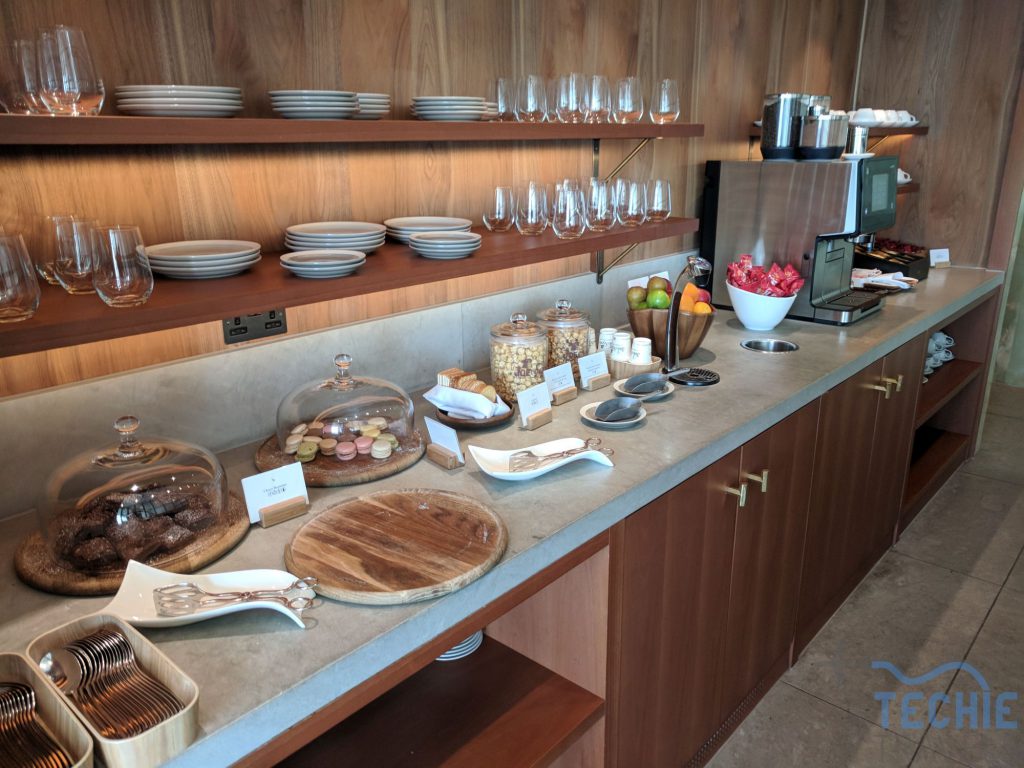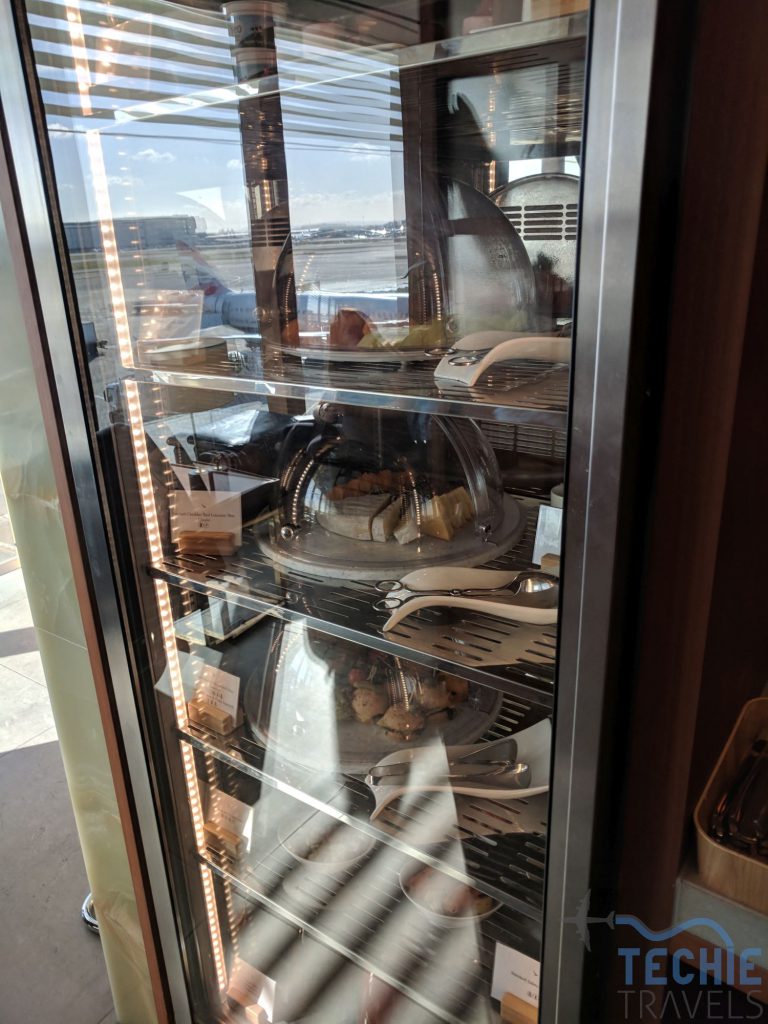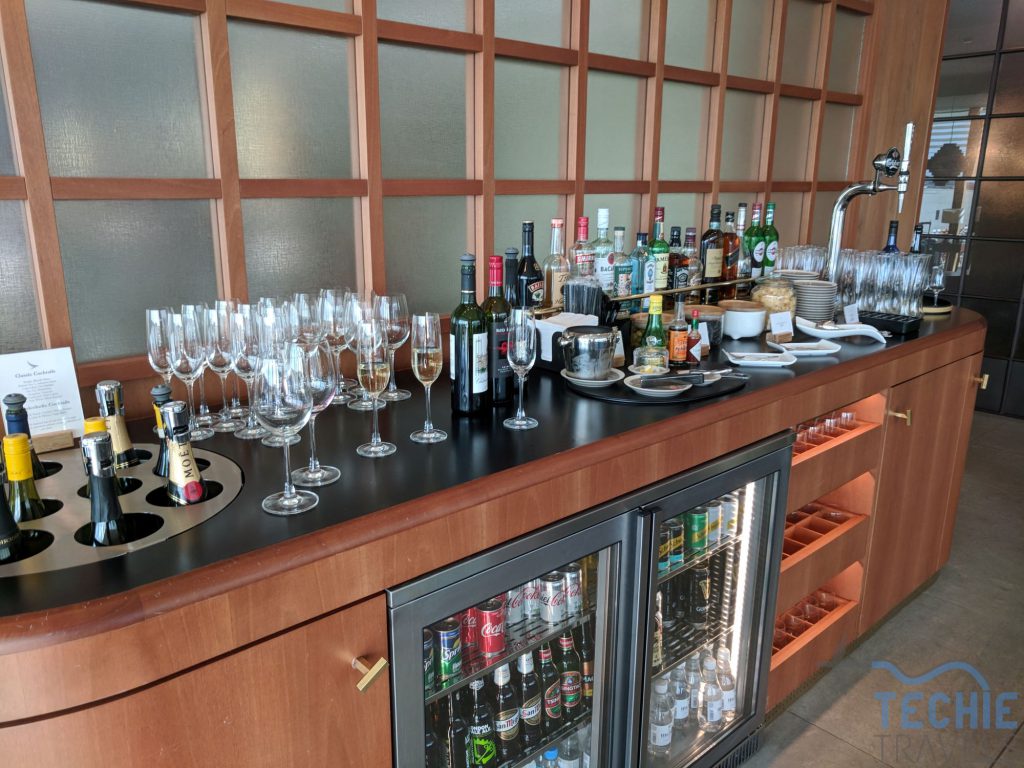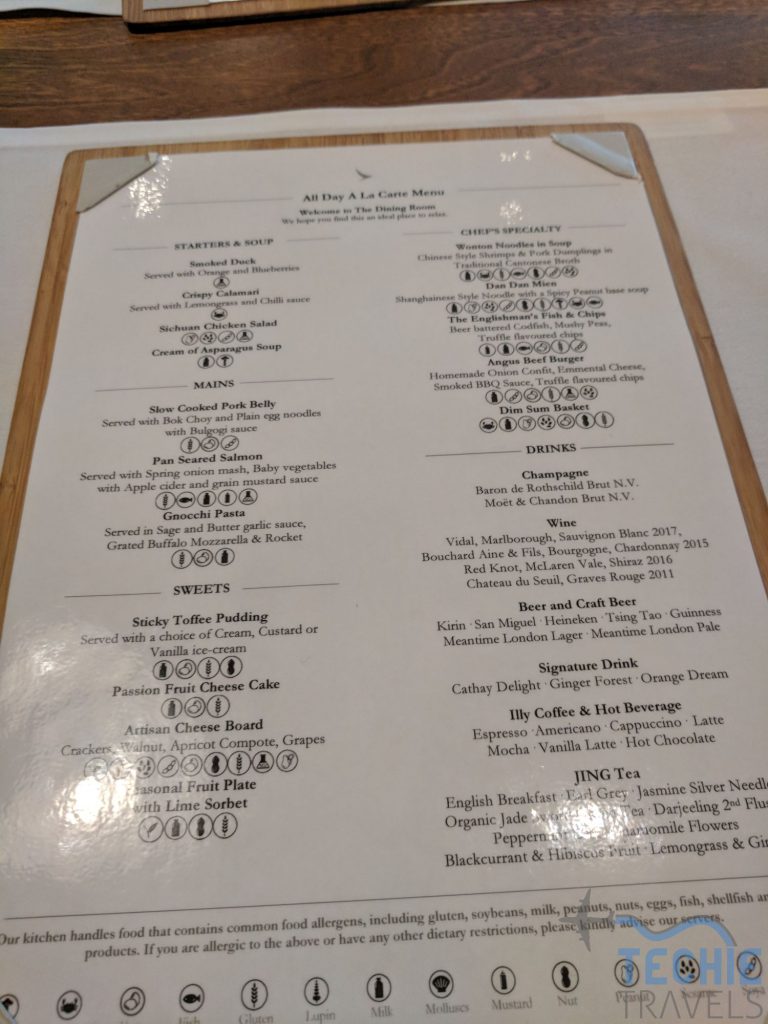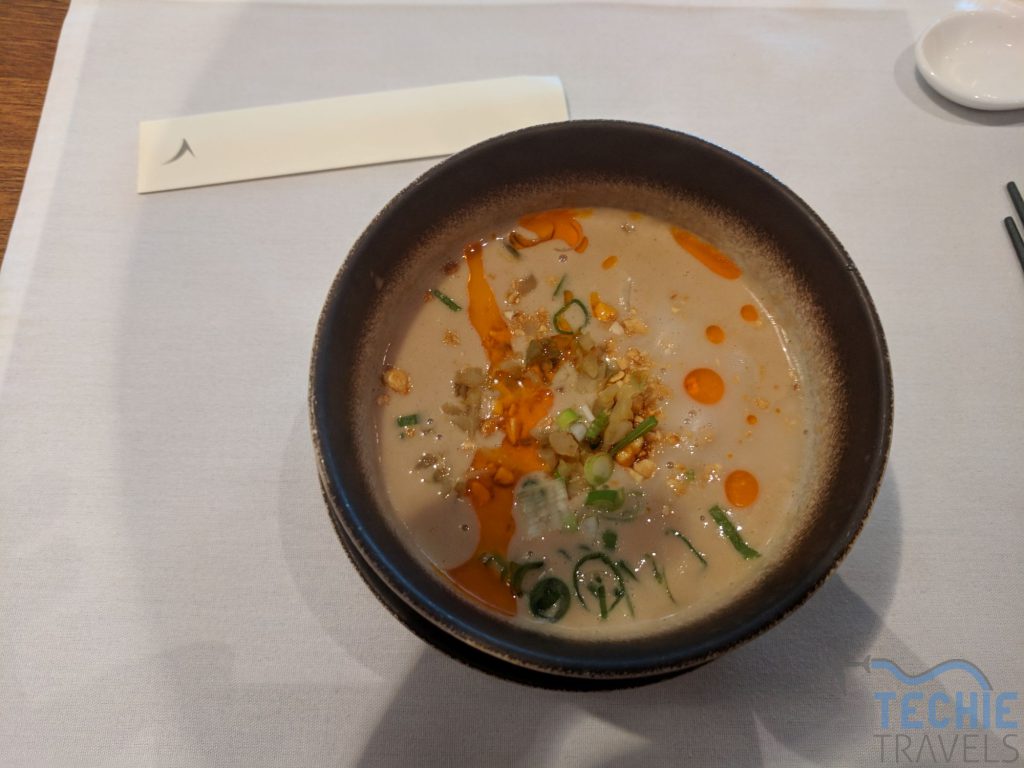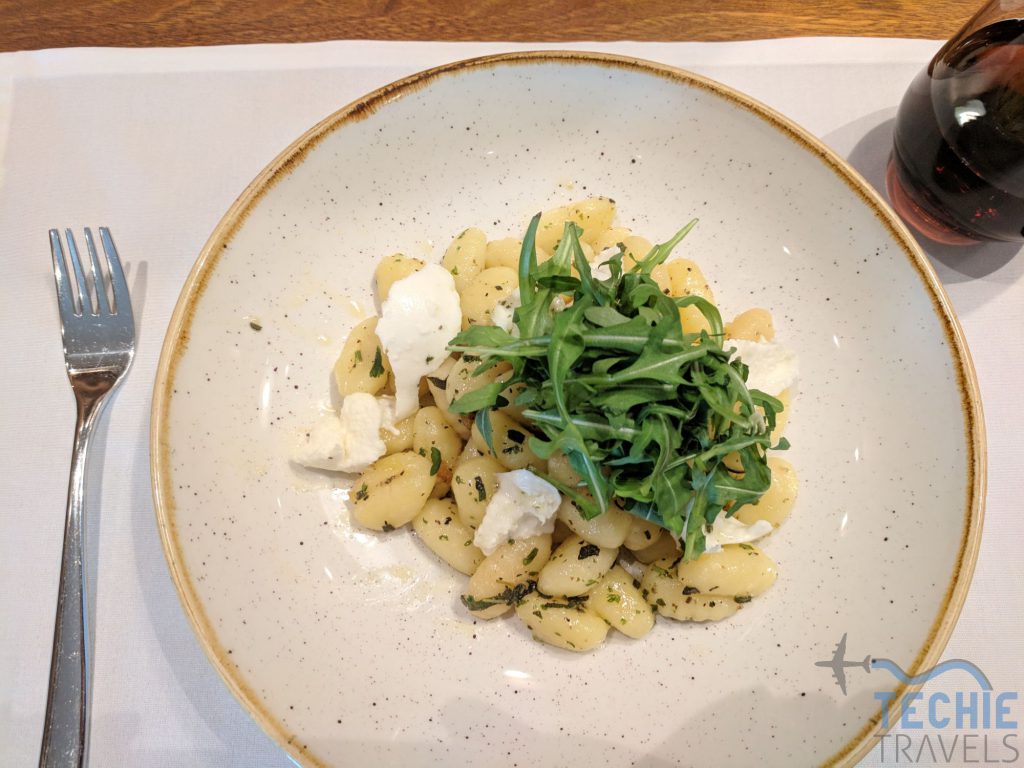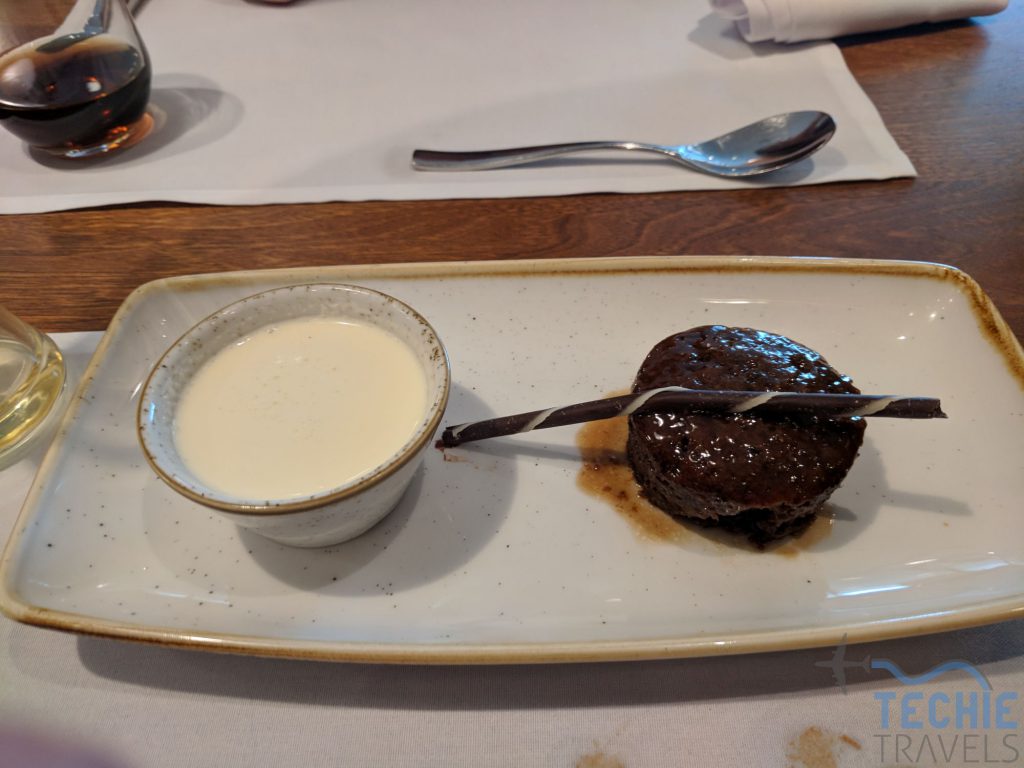 We left the lounge and went on what seemed like an interminable walk to the end of the concourse.  After a delayed boarding of about 30 min, we eventually made our way through the huge mess of people not knowing what a group number meant and found our way into the nose of the plane for our first class experience.