This trip report is long overdue.  In October, we took a repositioning cruise on the Celebrity Summit from New York to San Juan, Puerto Rico. Unlike most trips, we didn't plan this cruise extremely far in advance. We booked shortly after final payment which was about 90 days before the cruise due to a good sale on cabins.
The run up to the cruise was very stressful. With hurricanes Irma and Maria destroying all of the ports we were supposed to visit, there were many questions about whether the cruise would even be sailing. To Celebrity's credit, they announced the change to the ports of call about a month before the cruise. However, questions remained about our disembarkation of San Juan, Puerto Rico all the way up to the sail date. I was watching CruiseCritic and other news sources like a hawk trying to figure out if we needed to change flights. I figured Miami/Ft Lauderdale would have been the most likely candidates. In the end, we did end up going to Puerto Rico.
Our original itinerary was to visit St Thomas, St Maarten, and end in San Juan. It was quickly announced that we would be visiting Antigua and St Kitts instead. I had never been to Antigua so that was a welcome change. In addition, we had just been to St Kitts, but had spent all of our time on Nevis on that trip. So we figured this would be a good opportunity to explore St Kitts instead.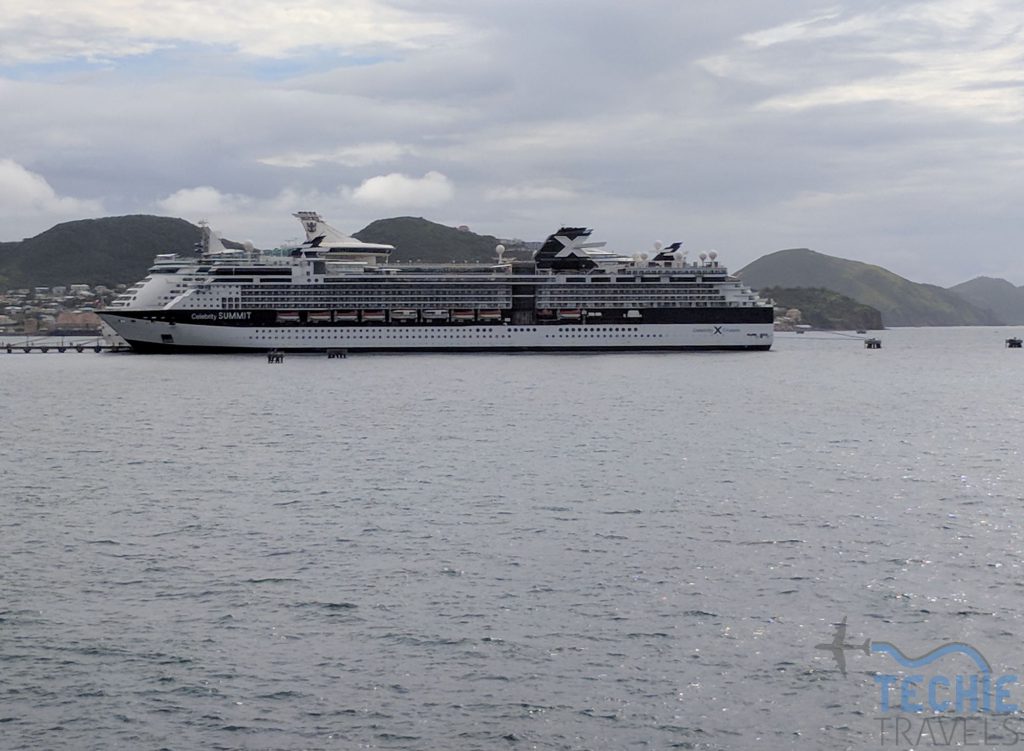 I ended up deciding to change our flight to leave the day of disembarkation due to much uncertainty about hotel reservations. There were many reports of people turning up to hotels only to be told that the hotel was full due to relief workers. I didn't want to fight this battle nor take the place of a relief worker. American Airlines was allowing free changes to flights due to the hurricane. In addition, because of the fare caps to and from the island, we were able to upgrade to first class for only $6 per person which was an incredible deal. We then spent the morning and afternoon in Chicago.
Due to all the uncertainty, it seemed as though many people cancelled their cruises which meant prices dropped by about half of what we paid leading up to the date of sail. Because of this, we were able to upgrade to an Aqua class guarantee at no cost which got us an A1 cabin all the way up on one of the highest decks. I'll have more comments about the cabin in future posts, but suffice to say, the cabin and location were excellent.
This is a map of our sailed itinerary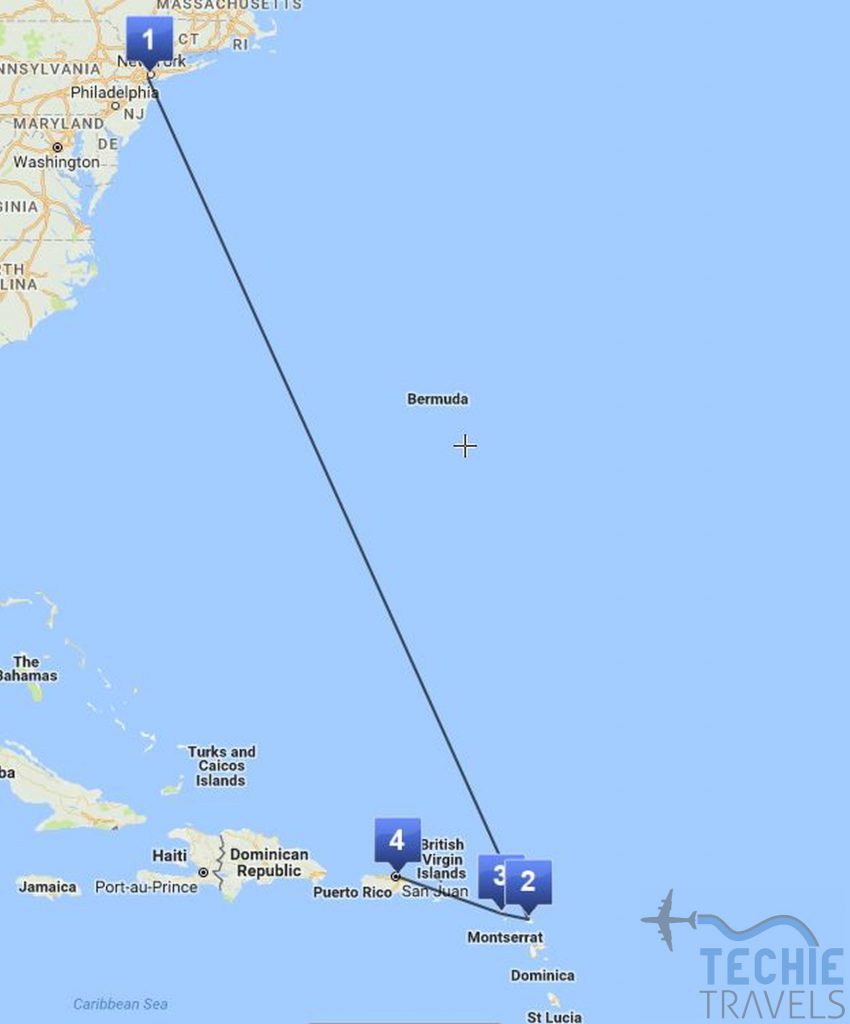 And here is a summary of our costs for this trip.
Money
Miles
Notes
Loews Hotel O'Hare
$139
0
Park, Sleep, Fly package
American Airlines Flight ORD-EWR
$141
0
Celebrity Summit Cruise Fare
$1300
0

$200 OBC – Amex Platinum
$135 OBC – Travel Agent
Free gratuities.

Antigua Paddles excursion
$116
0
Thenford Grey tour
$110
0
Drink packages
$135
0
Used OBC to cover most of cost
American Airlines Flight SJU-DFW-ORD
$406
0
Hyatt Lodge at McDonalds Campus
$0
0
Used Hyatt annual free night
Totals
$2242
0