Our flight was not until 2pm, so we took it easy in the morning and did not have to rush to get off the ship.  For our final meal onboard, we decided to go to Blu to finish on a high note.  I had the delicious eggs benedict again and Sam had an omelette.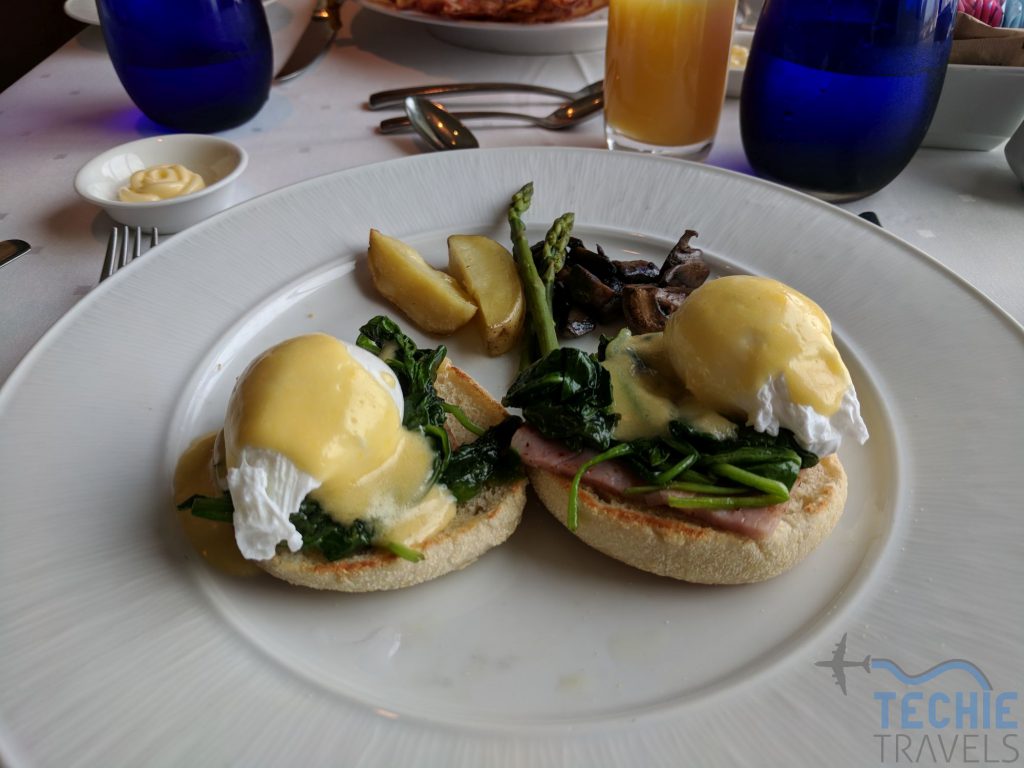 We said goodbye to our waiter and then headed down to Sushi on 5 which was our assigned location to wait for our number to be called.  Since we were in Aqua class, they set up a small coffee bar and pastry selection.  It was a nice touch.  From here, things did not go as smoothly however.
We debarked on deck 1 because the elevated gangway was damaged by Hurricane Maria.  It was clear that the port was still recovering from the storm and did not have a full staff on hand.  We were the only ship, and we still waited about a half hour in line to pass through customs and immigration.
We left our bags in the the huge sea of baggage bound for the airport and boarded the bus which departed quickly.  Baggage was being loaded on separate trucks and vans from the coaches.  It does not seem like that would be the most practical solution, but I am sure there are bureaucratic reasons why the luggage had to be transported by a separate entity.
We then began the bus ride through San Juan to the airport.  My reaction was that the physical destruction was not as bad as it could have been.  Yes there was destruction – high rises with windows blown out and almost all street signs were blown off.  But the worst (and probably still the worst) was the lack of power.  It seemed as though the only places with power that we saw on our drive were the port and airport.  All building and street lights were dark which turned intersections into terrifying free-for-alls.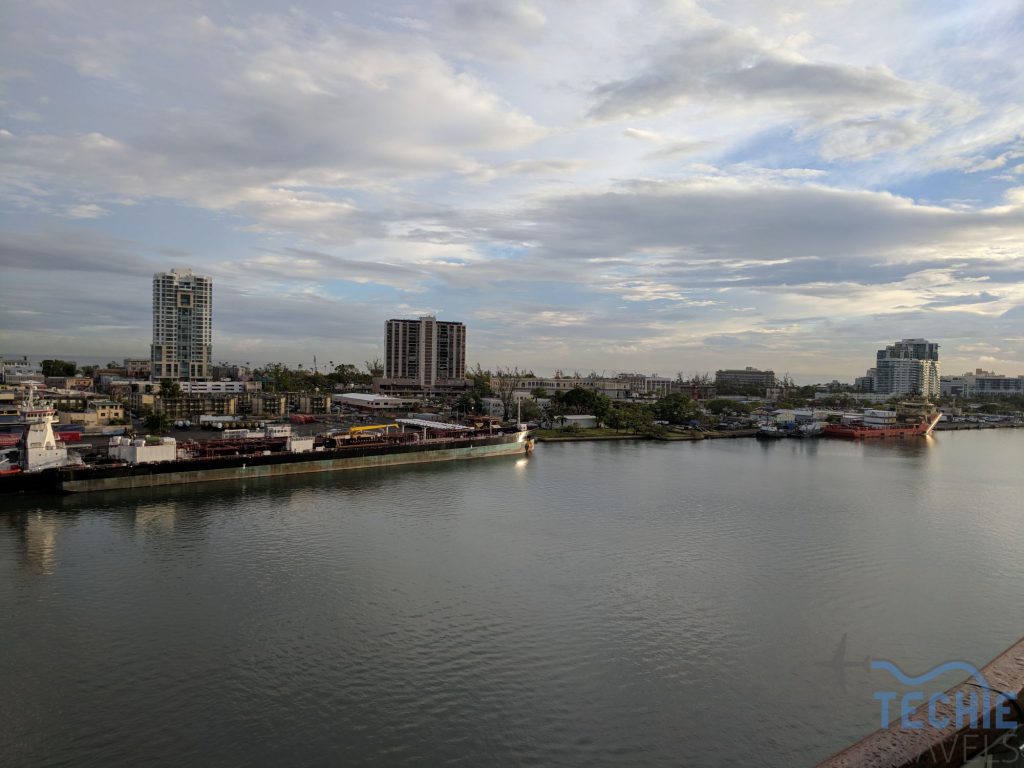 Once we got to the airport, we saw another sea.  This time of people waiting for baggage from the port.  Even though we were on one of the later buses to the airport, everyone on earlier buses was still waiting for luggage.  Eventually the vans started trickling in but it was impossible to get anywhere near where they were unloading because of the massive crowd.  Sam went to wiggle through the crowd and try to find bags.  After about an hour of waiting (it was raining as well I might add) our bags finally showed up.  Luckily we had built in plenty of time before our flight out just in case issues like this arose.  Celebrity really failed here.  They knew the volume of passengers taking advantage of the free airport transfers but it was still a mess.  It confirms my belief that Celebrity is excellent once you are on board, but a nightmare before and after as evidenced by the website problems and airport transportation.
Pre-check was closed at security which was annoying.  I cannot remember the last time I had to go through "normal" security thanks to Global Entry.  Then we headed over to check out the Avianca Sala VIP lounge that we had access to due to Priority Pass from the Chase Sapphire Reserve card.  The elevator to the lounge was out of order so we had to climb 2 flights of industrial stairs up to the lounge.  The lounge was absolutely packed.  We managed to grab a table, but there was nothing available soon after we arrived.  I did not feel comfortable taking pictures due to the volume of people but you can get a feel for it here: Lounge Buddy – SJU Avianca Sala VIP
I was not expecting the lounge to actually have much beyond water and packaged snacks given the problems resupplying the island.  However, I was pleasantly surprised when they brought out hot dishes of rice, shredded pork, and soup for lunch.  It was actually pretty good, and better than the meal we got on the plane.  There was also a decent selection of alcohol and soda available.
All things considered, the disembarkation process was satisfactory given the recent hurricane damage.  Yes Celebrity could have done a better job with the transfers, but that had nothing to do with hurricane damage.  Both the airport and port were completely functional.  I am glad we decided not to spend an extra day in Puerto Rico however given the apparent lack of power in many locations and continued issues with hotels cancelling reservations without notice.
We then boarded our flight to Dallas.  We got a dinner in first class which was completely unremarkable.  In Dallas, we had a bit of a layover so we went over the Centurion lounge.  We have access due to the American Express Platinum card.  The food was Tex-Mex and excellent.  I highly recommend checking out this lounge if you have the time.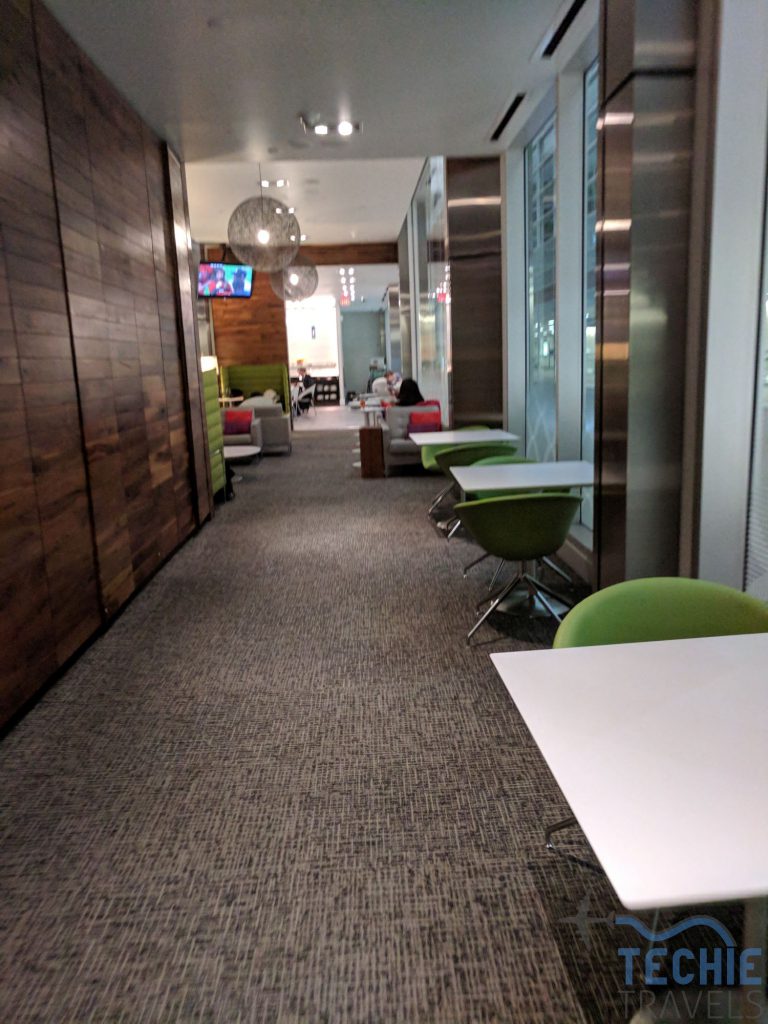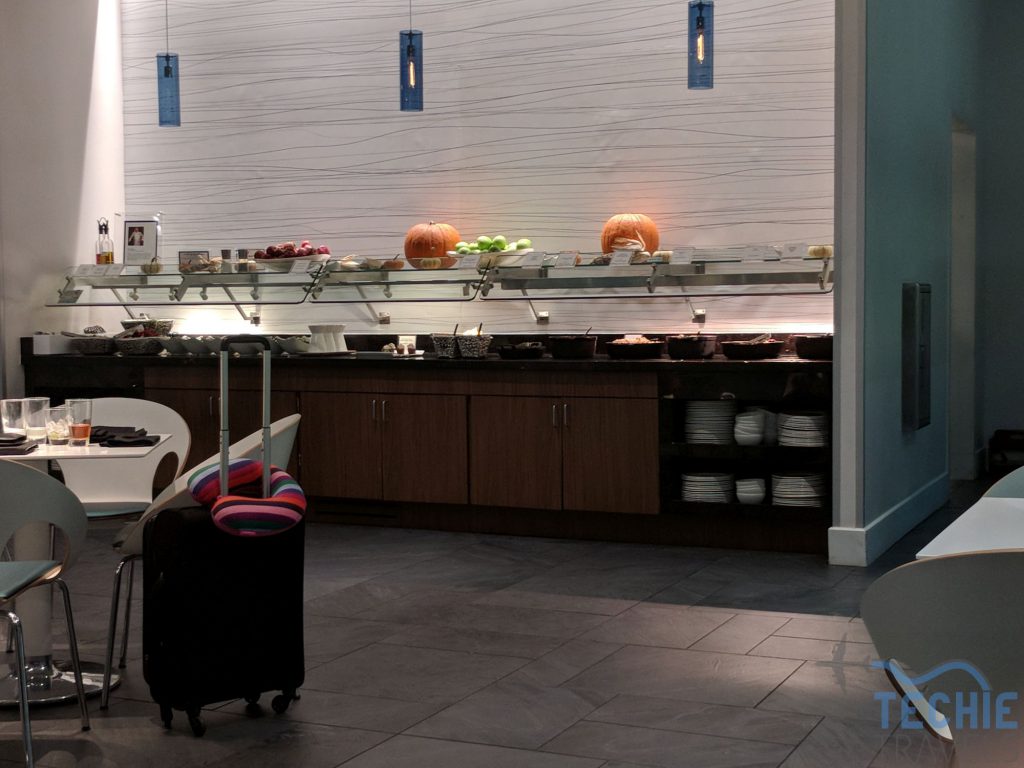 Upon arriving back in Chicago, we caught the shuttle back over to the Loews Hotel and discovered that we had a dead battery.  Luckily, the hotel is prepared for this and they quickly sent up someone with a jump start pack.  Then we headed over to the Hyatt Lodge at McDonald's Campus for an overnight stay.